I am the author of two books: Arriving at Amen (the story of my conversion from atheist to Catholic) and Building the Benedict Option (a guide to building thicker Christian community).
Arriving at Amen 
Arriving at Amen: Seven Catholic Prayers that Even I Can Offer is the story of how I learned to pray as an atheist-to-Catholic convert.
Direct, uncluttered, and full of spiritual insight, Leah Libresco has written a singularly helpful book for anyone seeking a deeper and richer and more reflective life of faith.
R.R. Reno, Editor, First Things
Being a convert and learning to pray is a little bit like studying a foreign language.
The trouble is that it's a lot like studying a foreign language in the new language.
It's hard to even pose a question, when you're relying on what feels like a pidgin-level of prayer fluency.  So, I wound up cobbling together a creole as best I could, building up my understanding of spiritual life using the tools and analogies that I already had.
In Arriving at Amen, I discuss the seven Catholic spiritual practices that have shaped my prayer life (Petitionary prayer, Confession, the Examen, the Rosary, Divine Office, Lectio divina, and Mass) and the math, musicals, and medical oddities that helped me find my way into these practices.
Reading Leah Libresco's book is like being taken on a tour of your home town by a brilliant, quirky guide who helps you see everything anew. Arriving at Amen is a delightfully refreshing read that will help any Catholic see the Faith through new eyes.
Jennifer Fulwiler, Author of Something Other than God
If you're not Catholic or not practicing, I hope the analogies and connections that helped me might make Catholicism make a bit more aesthetic and logical sense to you.  (Or at least, make it differently confusing).
And, if you are Catholic, I hope that the beauty that led me "further up and further in" to the Church will help to set alight your own prayers and your delight in the way that everything beautiful, good, and true is a signpost on the way to God.
You can order my book on Amazon here, and you can learn more about the book (including a list of all the books I found an excuse to cite) here.
Building the Benedict Option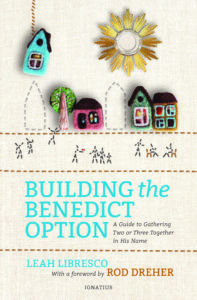 Building the Benedict Option: A Guide to Gathering Two or Three Together in His Name is a combination spiritual memoir and practical handbook for Christians who want to build communities of prayer, socialization, and evangelization in the places where they live and work.
When I converted to Catholicism from atheism, I knew I needed more help from other Christians than I got from weekly Mass alone. I invited people over to read the Church Fathers, to sing hymns, to apply for jobs together, and (occasionally) to just be at peace together in God's presence, no agenda in mind.
Like the Rule of St. Benedict, Leah's wisdom is of the everyday kind, a sort so plain that it's easy to overlook. To read this book is not just to encounter good ideas, but also to awaken to one's own gifts for hospitality and community-building.

Rod Dreher, author of The Benedict Option
I hope you'll put this book down several times before you finish it. Interrupt your reading by opening your home (I have a few ideas you can put into practice within two weeks). And let me know what you and your friends invent!
Building the Benedict Option is available for purchase here, and you can learn more about the book here.